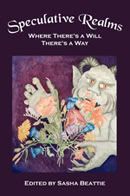 Last year I was pleased to have my short story, "Summer of the Widows," appear in an anthology titled Speculative Realms: Where There's a Will, There's a Way. It's a wonderfully eclectic mix of fantasy, science fiction, and horror stories from a global collection of writers.
In "Summer of the Widows," one of my recurring characters (a young female wizard's apprentice with a knack for attracting trouble) is suspected of murder, and must find the real killer AND save her master from an even more dangerous threat–marriage!
Right now, I see that Amazon.com is offering the anthology for a sweet $5.88. That's less than forty-six cents per story for the thirteen stories in the book. At that price, I'd suggest you get it while it's hot!