---
You've arrived at the online home of speculative fiction writer Sherry D. Ramsey. From here, you can check out my blog for the latest news and to follow my current writing projects, find out more about me and my various interests, read some free fiction or purchase e-books of some of my short stories.
What's New
---
My science fiction novel, One's Aspect to the Sun, will be published by Tyche Books, with a tentative release date this fall. The official announcement from their news blog is here.
---
I'll be reading at the next Governor's Book Pub, coming up on March 19th. Nicole Dixon will be reading that night as well, so come down and join us for fun, food, stories!
---
Only a few weeks left to get your submissions in for Third Person Press's fourth anthology, Flashpoint! Get all the details at thirdpersonpress.com. Subs close March 31st!
---
Unearthed is now on sale in print and ebook formats, direct from Third Person Press and around the usual online suspects (like Amazon & Smashwords, for starters). This is our third anthology, and possibly the best collection of stories yet! Twenty-one great science fiction, fantasy, horror and paranormal stories. Dig in!
Latest Blog Entries
---
Earlier News
---
April, 2012 ~ We're getting close to announcing a release date for Unearthed from Third Person Press. Cover art sneak peek coming soon!
---
December 7th, 2011 ~ My book is out! Find out more and order a copy from Third Person Press, from amazon.com in print or for Kindle, or from Smashwords in many eformats. If you order direct from Third Person Press, you can have your copy signed. :)
Also, over the next few weeks, I'll be blogging about some of the stories in the collection, so keep checking back or subscribe to the blog feed!
---
November, 2011 ~ The book launch for my short story collection is set for December 6th at 6:30 pm, at the Wilfred Oram Centennial Library in North Sydney. Get all the details here!
---
Well, it's November already, and here's how the novel progress is going:
Carl, Angie, and their crew of fellow gamers have been holed up playing the MMORPG Gods of Sundered Heaven (or GOSH) for the past week and a half. They have no idea that during this time the apocalypse has come and gone…leaving them to deal with the aftermath when they finally emerge, blinking, from Carl's converted warehouse apartment. Will their gamer skillz be enough to help them rescue their friends, get them to a safe haven–and maybe even figure out how to overcome the current threat to humanity? And in the final analysis, will they turn out to be heroes–or just another bunch of geeky n00bs?
---
Our household is gearing up for NaNoWriMo 2011–we'll have at least three writers and possibly four. Right now we're brainstorming and planning: once things are nailed down I'll post a bit about my project on my NaNoWriMo page. Think you might want to write you own novel in a month? Click over to nanowrimo.org to find out how!
---
September, 2011 ~ My first collection of short fiction, "To Unimagined Shores," will be released later in the fall. It will come out in print and e-versions, so watch for more news on this title soon…
At Third Person Press, we're currently finalizing the table of contents for Unearthed, the third installment in our Speculative Elements series. Projected publication date will be sometime in early spring, 2012. We're also at work on a sekrit project over at TPP. Very exciting!
---
May/June, 2011 ~ I'm revising a novel and writing some new short fiction. I'm the new Vice-President of SF Canada, and a new member on the Writers' Federation of Nova Scotia Board of Directors. Also editing two short story collections–actually, make that three. Whew, I'm getting tired just reading this…
---
March/April, 2011 ~ During these months I'm writer-in-residence at Jubilee Elementary school. This is part of the Writers In The Schools program sponsored by the Writer's Federation of Nova Scotia, which puts writers in classrooms to connect with students on the importance of writing and reading. I'm having a wonderful time working with the kids and they seem to be enjoying the whole experience, too. I'm discovering quite a lot of budding writers!
---
March 1, 2011 ~ Submissions are now closed for the Third Person Press anthology, Unearthed. We received a record number of submissions for this project, which makes us very happy! It also means we'll be busy reading stories for a while…
---
December 30, 2010 ~ Third Person Press has extended the deadline for submissions to Unearthed until February 28, 2011. We've revised our publishing schedule to give ourselves a little more time and wanted to give our writers the same opportunity.
---
November 1, 2010 ~ National Novel Writing Month. Yes, it's that time again! Furious noveling is underway. Click over to my NaNoWriMo page to see what I'm writing this year.
---
October 25, 2010 ~ This coming weekend I'll be at Hal-Con in Halifax. Third Person Press will be selling books and I'll be doing a few talks on editing, critiquing, and NaNoWriMo. If you're there, find me and say hello!
---
August 4, 2010 ~ My short story, "The Longest Distance," will be appearing soon as part of Michael A. Stackpole's Chain Story Project. Watch this space for details!
---
May 22, 2010 ~ Third Person Press has a new call for submissions. Get all the details at www.thirdpersonpress.com!
---
April 29, 2010 ~ I've taken on the position of Webmaster for SF Canada. Read today's blog post for details!
---
March 7th, 2010 ~ In honour of Read an E-book Week, I'm offering a free short story ebook. Click over to the blog page for the links!
---
March 1, 2010 ~ Lots of news lately! The March issue of Semaphore Magazine is now online, and includes my short story, "The Big Freeze." You can read it online at http://is.gd/9ukHs.
---
February 28, 2010 ~ The Destination: Future anthology is now available to order from Amazon.com!
---
February 1, 2010 ~ over the weekend I had to review the page proofs for my story in Destination: Future, to be released this month. Very exciting! The anthology received a starred review from Publisher's Weekly (scroll 'way down to find it!).
---
January 2, 2010 ~ With everything that was happening in November and December, I forgot to mention this: my story "The Big Freeze" is slated for the March 2010 issue of Semaphore Magazine.
And Happy New Year, all!
---
October 19, 2009 ~ Oh yes, it's that time of year again. I'm currently planning my 2009 National Novel Writing Month project, so I will be ready to roll when November 1st hits. If you don't know about NaNoWriMo, check out my page about the project and the novels I've written in previous years.
I'll be blogging my progress here this year and also talking a little bit about the novel beforehand, so keep checking the blog for updates. If you're participating, I'd love to hear from you!
Comment here or contact me on the NaNoWriMo site. You'll find me under wordsmith.
---
August 25, 2009 ~ I opened my email this morning to find an acceptance letter from Z.S. (Sophy) Adani, the guest editor for Hadley Rille's upcoming anthology Destination: Future. My story "Encountering Evie" will be included in the anthology, due out in 2010.
---
June 29th, 2009 ~ I've just received a lovely letter from the Writer's Federation of Nova Scotia, confirming that I've met the standards as laid out in the organization's constitution and am now a new member of the Writer's Council.
---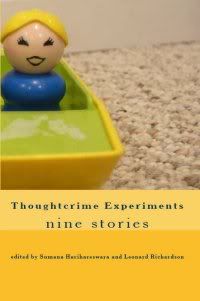 Thoughtcrime Experiments is a free 2009 anthology of fantasy and science fiction stories and art, published under a Creative Commons license. It includes my story, "The Ambassador's Staff," the first in a series of SF/detective stories set in the fictional future Cape City.
The anthology is available online as HTML, as a downloadable PDF, as a print-on-demand physical book, and in mobile editions. All details at Thoughtcrime Experiments.
---